Our workshop and packaging unit can be found in Kato Polemidia, an outskirt of Limassol very close to the famous medieval castle of Colossi. The castle was once used by the Franks to defend their land from the Crusaders. Fasouri, the area south of the castle, is known for its citrus groves and rich honey production, particularly during spring, when the orange trees blossom.
Only 6km to the west lies the ancient site of Kourion, one of the most important archaeological sites of Cyprus, with its ancient theatre and magnificent Roman mosaics. During antiquity, Kourion theatre housed Ancient Greek tragedies, and today, it serves as a venue for concerts and theatre performances. Just below Kourion, you can see the sandy Kourion beach, one of the best locations for swimming on the island.
Leaving Limassol, on your way to Paphos, you find the village of Erimi which has an extended olive grove and one of the best olive mills in the area. Every November, during the Koroneiki olive harvest, our own olives are milled there.
The Limassol area is renowned for its traditional carob production. Carobs were once called the "black gold of Cyprus" and were exported by the tonnes from Enaerios. Also, the êñáóï÷þñéá (krasochoria) meaning wine villages are vine cultivating areas located north of the Limassol province.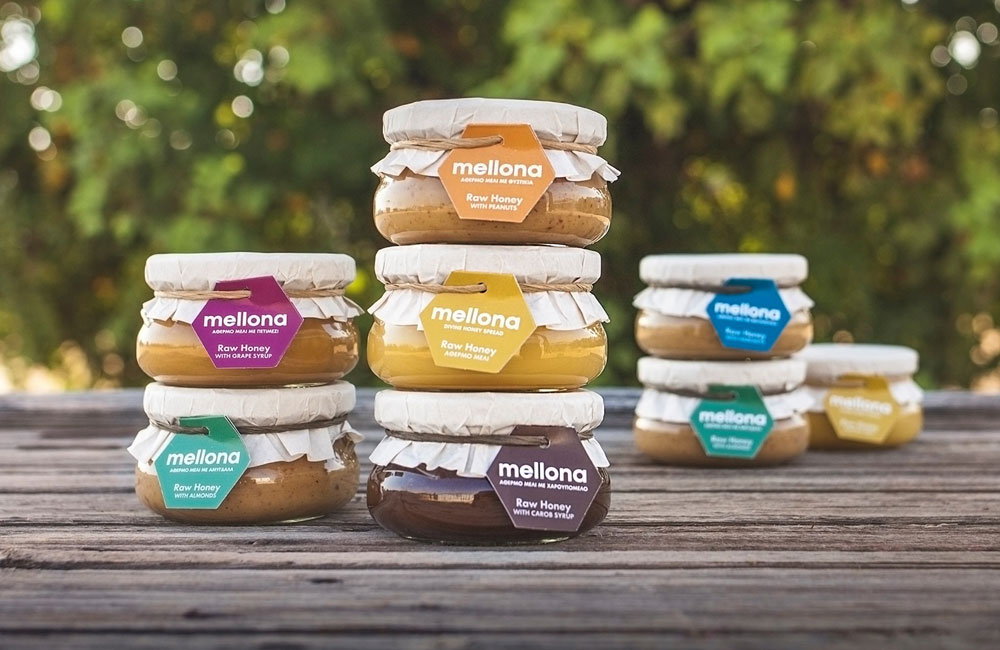 Beekeeping is also thriving in many areas of the province. During spring, when the citrus trees blossom, bee hives are moved to Fasouri. There, the bees collect nectar not only from the blossom of orange trees, but also from a variety of plants, herbs and trees that blossom during spring. During summer, we move beehives higher on the mountains where bees can still find flowers with enough nectar to support honey production. We love Cyprus and its unique high-quality produce and we source our raw honey and other raw ingredients as much as possible from our island.
We are a team of hard-working individuals with passion for quality. We love working for Mellona. Here, we feel comfortable to express new ideas and we are able to develop our skills.
All of us, employees and associates, are different in character and way of life. However, we share the same core values and love for real, unprocessed, nutritious and delicious food. We are proud of the excellent products we make and to be members of the extraordinary and rewarding Mellona family!