Apianthos is produced in the geographical area of Troodos Mountain Range of Cyprus. We have nomadic hives that migrate according to the different flower blossoms and provide our speciality honeys. We also have our resident bees, staying all year long in our unique Organic Botanical Bee Park. We work with nature; our approach is synergetic and holistic. Our natural bee keeping methods have allowed us to create a symbiotic relationship with our bees and the biodiverse ecosystem that surrounds us.
Our system is completely inclusive, we do everything ourselves, from making our hives from raw wood, using our own wax, breeding our own queens, making our own organic pest control etc.
From Flower to Jar, we have uncompromising values and protocols of transparency because we know how important it is for you to be certain about the origins and quality of your honey.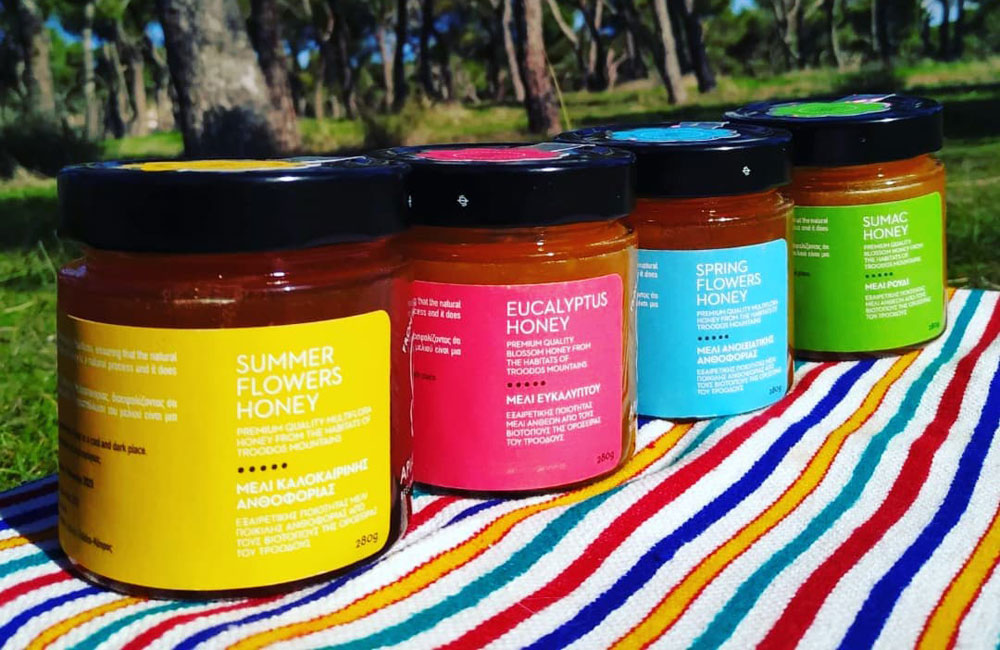 Trust & Respect
Our colonies can be traced back to roughly over three decades. We have built a relationship of care and trust that benefits the environment and its biodiversity, the bees and us humans. Bees are capable of recognizing that, so for that reason we do not need to use smoke or a protective suit to approach them and operate the hives.
That balance between us is one of our greatest rewards.
Apianthos is not only a honey brand with a rich history, it is an ecological project run by people, professionals who know and love honey and nature. We are here to share this experience with you, unique and authentic raw honey from Cyprus.